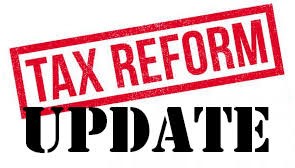 Tax Reform
Seven key changes under the tax reform plan
The tax reform changes went into effect on Jan. 1, 2018
and affects Tax Returns for 2019 & 2020
1.
Standard Deduction Increases
No matter your filing status, the standard deduction increases in 2019.
Single and Married Filing Separately: $12,200
Married Filing Jointly: $24,400
Head of Household: $18,350
2.
Personal Exemption Eliminated
Under the tax reform, taxpayers can no longer claim the $4,050 personal exemption for each of their dependents.
3.
Misecellaneous Itemized deductions suspended
The previous deduction for job-related expenses or other miscellaneous itemized deductions that exceeded 2 percent of your adjusted gross income is suspended. This includes unreimbursed employee expenses such as uniforms, union dues and the deduction for business-related meals, entertainment and travel, as well as any deductions you may have previously been able to claim for tax preparation fees and investment expenses, including investment management fees, safe deposit box fees and investment expenses from pass-through entities. The business standard mileage rate listed in Notice 2018-03 cannot be used to claim an itemized deduction for unreimbursed employee travel expenses during the suspension. THIS MEANS THAT…if you do itemize…if your miscellaneous itemized deductions previously needed to exceed 2% of your adjusted gross income, they are no longer deductible.
4.
Child Tax Credit Rises
The Child Tax Credit increases in value from $1,000 to $2,000. The tax reform bill also introduces a new $500 credit for non-child dependents.
5
State and Local Capped
Taxpayers can deduct up to $10,000 in state and local income taxes. Previously there was no cap.
6.
ACA Individual Mandate Repealed
Beginning in 2019, individuals who choose to go without healthcare coverage for the year will not have to pay tax penalties.
7.
Mortgage Interest Deduction Drops
Individuals who purchase a home in 2018 can only deduct interest up to $750,000 in mortgage debt (previously $1 million). The interest deduction on home-equity loans is eliminated.
2020 Income Tax Brackets